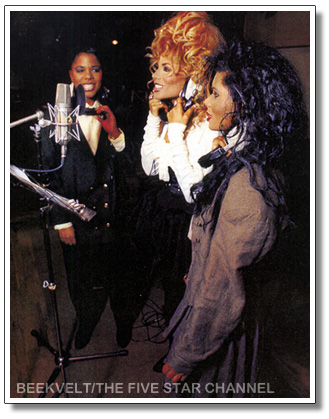 From left to right: Lorraine, Denise and Doris in the studio.

Within the music-business it's a wellknown fact that Denise always recorded her leadvocals twice during the RCA and Epic years, so she could choose the best version to be released. Denise is also known for being able to sing each song at the right key, the very first time she sings the song. This is something only the world's best singers are able to do. Denise only had one singing-lesson, her singing comes natural to her and she has a vocal range which can only be compared with the best singers in the world. She usually doesn't need much time to record a song, only Denise's perfectionism makes her record the song over and over again till it sounds perfect to her. Even then she is not always satisfied with the result.

Five Star is also known for being able to sing in perfect harmony, with an almost impossible perfect timing. Their skills in songwriting has been acclaimed and admired by many international stars. Their professionalism in and out of the recording studio is highly admired and spoken about by people in the recording-business.