Denise is very serious, grown up and she has a big sense of responsibility. When Denise has something in mind she does everything to make it happen, no matter how hard she has to try or how hard she has to work. Singing is her life, it's not a matter of choices, she just has to sing, straight from the heart. Her first musical influence was Elvis Presley, but her singing-style was most of all influenced by Smokey Robinson. She usually composes her songs on keyboards, but she can also play several other instruments, like the guitar and the saxophone.

Delroy has the same weird sense of humor as Doris. He's sincere, honest and most of all he's very much a macho-man. His nickname is "Medallion Man" and he used to hate dancing so much that he used to burst into tears when he couldn't get the Five Star dance-routines right. It never came natural to him, but he just became determined to get it right.

Stedman is a real gentleman in everything he does. He's kind, warm hearted but like Denise he can also be very serious. He studied karate and at "Barking College" he studied Performing Arts. Before Five Star he had a part-time job as a waiter. In the group he was not very good in writing songs.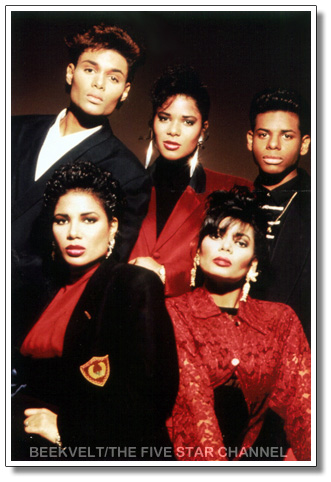 Five Star in 1990: another picture from the Epic-archive.