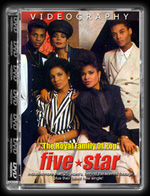 click to enlarge:
*Five Star Video Collection (on DVD 2001):
A complete video-graphy collected on one DVD,
featuring ALL video releases from "Hide And Seek"
till Funktafied". With lot's of bonus-extra's like:
live performances on "Wogan", "The Peter Pan Medley", and behind the scenes footage..

*Special Fanclub Releases:
What about selling special editions of never before released material such like the "Lost Tracks"
(see: "Five Star FAQS"), Matt Goss' duet with Denise "This Pain" and "The Peter Pan Medley"? That would be a VERY commercial TENT-move (Buster)! I just know for sure almost every Fan would buy this stuff, am I right?

*Eyes Don't Lie (2 step remixes):
Hearing all the controversies to this song, there's certainly one formula at the moment that will work for Five Star and make this comeback-song successful (well, in the UK that is), and that are some fine 2 step remixes. Even better: produced by Artful Dodger, featuring Craig David (looking smooth and clean himself just like our 5 Star..). And maybe added by Delroy; a nice and relaxing LOUNGE -instrumental "b-side"? Wouldn't that be great?

*The 2001 European Tour:
Ok, so there is a kinda "Comeback-Tour" going on in the States, but what about the European market. Just come over to Europe in 2001 Five Star, and PROMOTE your new album also overhere with a Tour. Starting in the UK, then to the BeNeLux (ofcorse), Germany, France and Spain (sorry if I forgot you're country...). Think about it, the market is still huge overhere.

*I Wish Me You (2001 X-mas release):
According to other people, this would be the perfect X-mas hit (sorry X-mas haters!). Coming with a bright and colourful TLC-"Damn Unpretty"-like video. Giving Five Star maximum media-exposure ('cause there are not many new x-mas tracks left anymore these days..).

*Five Star 12" Mixes Of The Eighties:
A great 2cd-compilation album including all 12" versions of Five Star's greatest hits of the '80's. Also coming in a ltd. edition box with an extra cd of Five Star- remixes of the '90's.