Before you know it LORRAINE rounds the corner and my heart stopped beating! She says "Hello" to everyone and shakes their hand. Then she gets to me and says "Leron, it's nice to finally meet you!" I shake her hand and just smile. That's all I
could do. Of course, you all know who was next!!!!!!! Denise comes in and says "HI" and shakes my hand also. I smile and say, "Denise, can you touch this?" I was holding my ECLIPSE drink bottle and she touched it for me! I nearly died! Then Stedman comes in and shakes hands with me and says "Nice to meet you!" Just when I thought I couldn't take anymore, Mr. Pearson comes in, bag in hand and says, "So this is Leron" and we finally meet after 10 years of speaking to him on the phone! Mr. Pearson tells the presenter Paul that we've been speaking on the phone for ten years and this is the first time we've ever met.
Now that you see the pictures, you should know what the jingling noises were. They were coming from the belts Lorraine and Denise were wearing.
While the presenter is setting up, Five Star gives everyone
t-shirts, caps, pens and tapes. The tapes were awesome! After they were given out, they began to autograph them. So we all get autographs and chat a little. Then it's time for the show.
I don't want to give away any details of the interview because I want everyone who will be able to see it to be surprised. The interview went on for about two hours. Five Star were interviewed in the 360 Club and outside. They are walking outside on the Hollywood Walk of Fame like they were strutting in the Another Weekend video. After they finished their Walk Of Fame people began to, take notice of them and start to follow us. We then go back to the building where the 360 Club is located and go to the parking lot. They start shooting footage of Five Star on, in and around Stedman's classy customized Rolls Royce. You guys
have to see this car. It is a classic!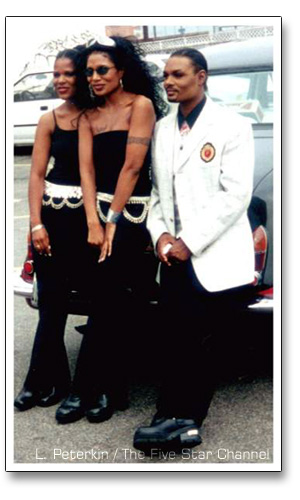 From left to right: Lorraine, Denise & Stedman.
Taken in front of Sted's Rolls Royce,
at the 360 Club parking lot.